Universal CE Certified Wipe
FOR HAND & SURFACE SANITISATION INCLUDING NON INVASIVE MEDICAL DEVICES
Our Universal Wipe, 450/100 packs offers the most powerful
Antibacterial & Antimicrobial Wipe, with a higher % of the active
ingredient it is not only a powerful antibacterial wipe for skin
and surfaces but also NON Invasive Medical Devices - Surfaces &
Equipment Cleaning
Alcohol free with the addition of Vitamin E and Aloe Vera helps to
hydrate the skin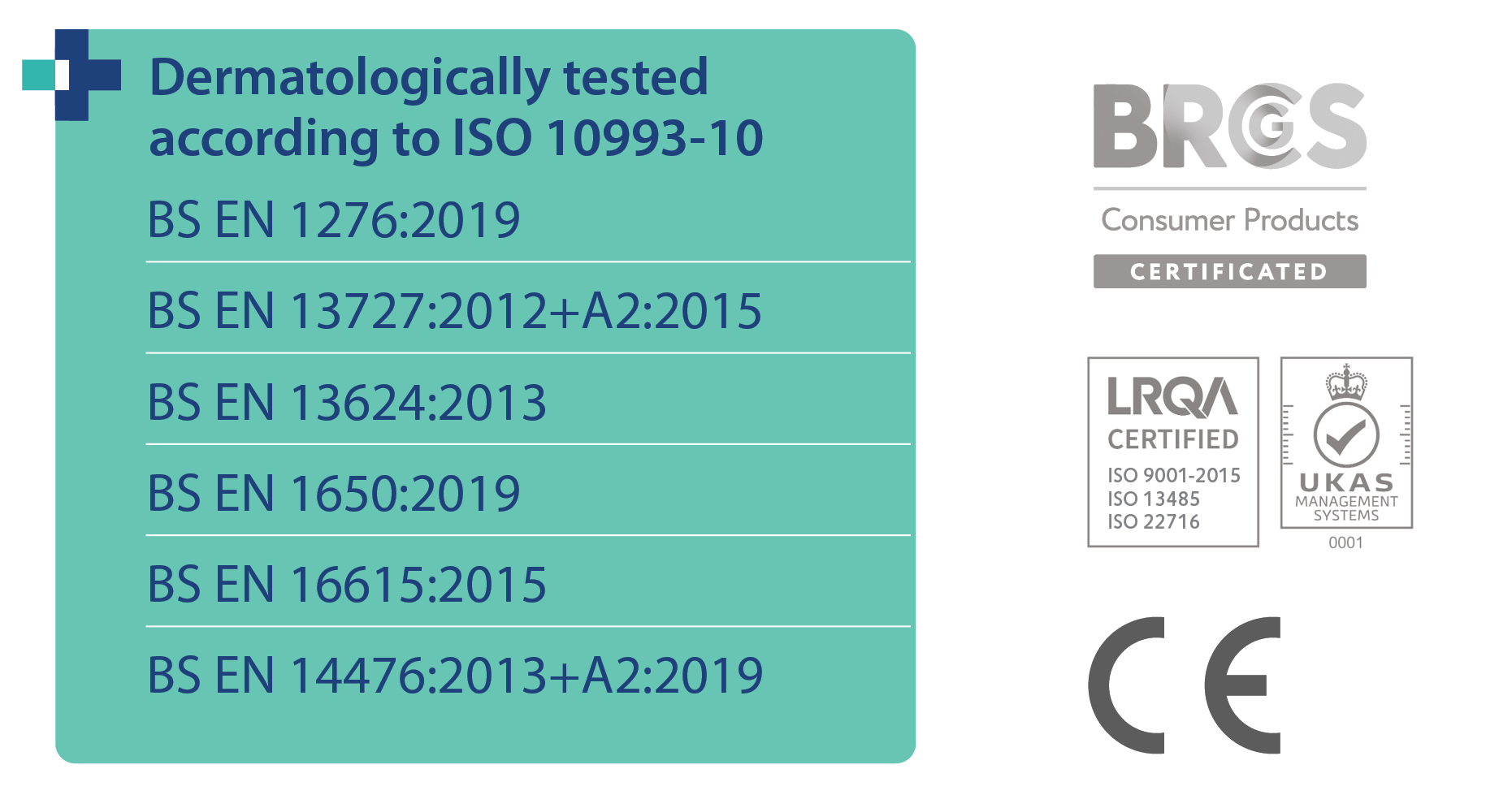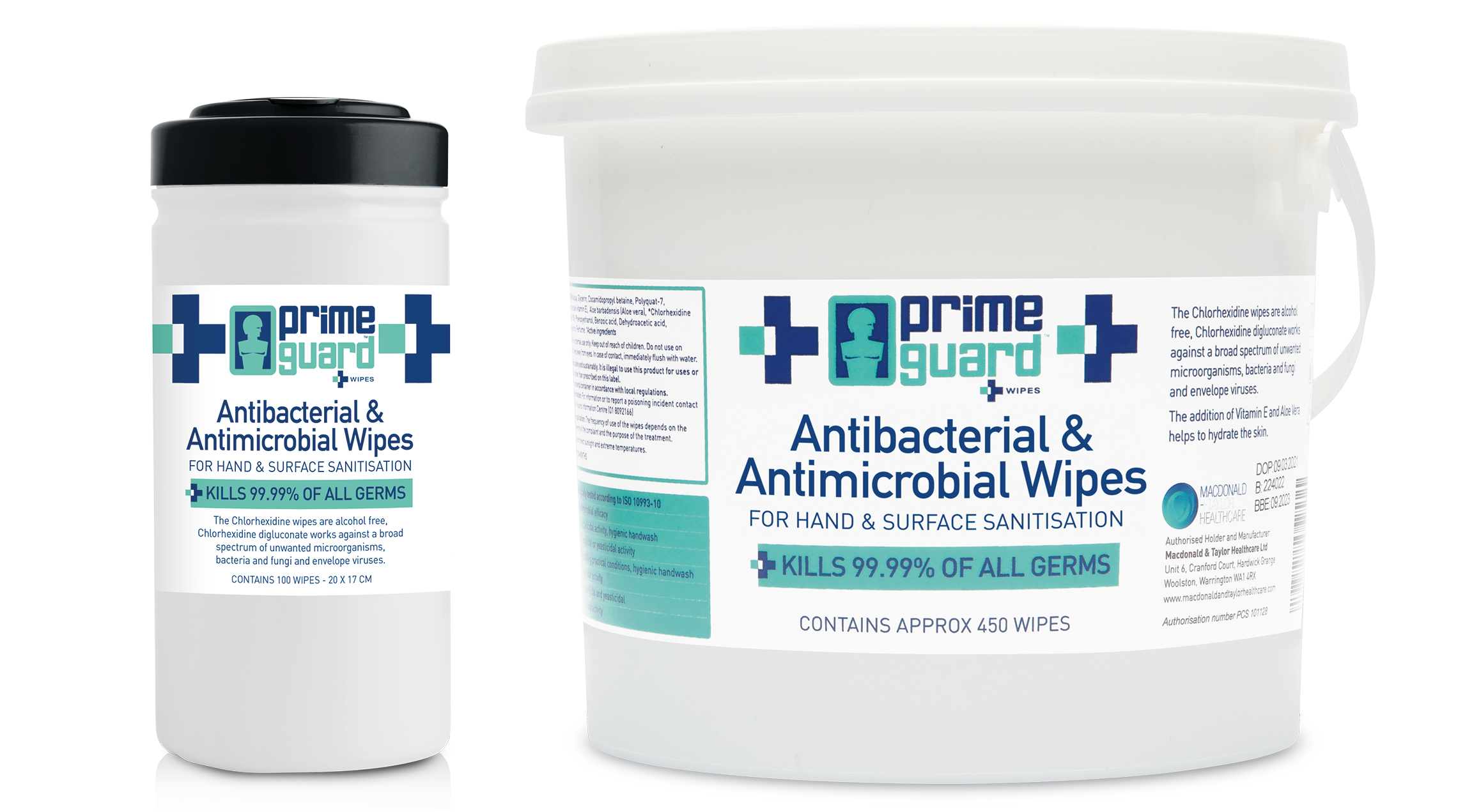 COMPOSITION
Aqua, Glycerin, Cocamidopropyl betaine, Polyquat-7, Tocopheryl acetate
(vitamin E), Aloe barbadensis (Aloe vera), *Chlorhexidine digluconate
Phenoxyethanol, Benzoic acid, Dehydroacetic acid, Ethylhexiglycerin, Perfume.
*Active ingredients
Sanitising Wipes
FOR HAND & SURFACE SANITISATION
Primeguard Antibacterial & Antimicrobial wipes are suitable for skin and surfaces. The wipes are dermatologically tested according to ISO 10993-10, they are Alcohol free and contain Vitamin E and Aloe Vera to hydrate the skin.
The pre-moistened packs of 25 wipes are non-abrasive and lint free and designed and manufactured to deliver a precise amount of the active ingredient in every wipe to prevent cross contamination.
Studies show that coronavirus can survive up to 3 hours on surfaces. When these surfaces are touched by unaffected people the virus can be transmitted, so it is important to regularly sanitise surfaces that people touch such as door handles, light switches, computer keyboards, mouses, desks, tables phones, bathroom fixtures and toilets.
The active ingredient in Primeguard wipes is Chlorhexidine a powerful antiseptic that not only sanitises skin and surfaces but also binds to the skin to act as an invisible barrier, effective within 2 minutes, offering protection for up to 6 hours.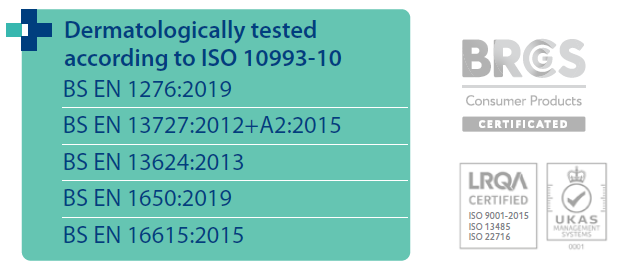 COMPOSITION
Aqua, Glycerin, Cocamidopropyl betaine,
Polyquat-7, Tocopheryl acetate (vitamin E),
Aloe barbadensis (Aloe vera), *Chlorhexidine
digluconate, Phenoxyethanol, Benzoic acid,
Dehydroacetic acid, Ethylhexiglycerin, Perfume.
*Active ingredients